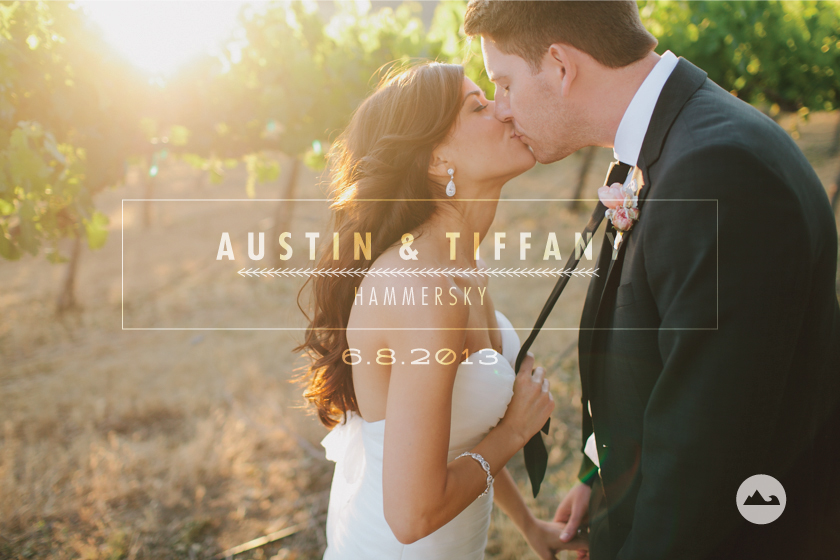 Early in June we hit a huge milestone, we photographed our 100th Wedding!!!! This wedding is not only special for us because it is our 100th, but it is also our first wedding at the amazing HammerSky Vineyards in Paso Robles.
Austin and Tiffany are the perfect pair, we loved to watch them interact, she is a firecracker and he is a laid back funny fellow (in his $2,000 suit, come on!).  They chose HammerSky for it's intimate setting and beautiful vistas, and we could not agree more. Not only did we photograph the wedding but Necia also designed Austin and Tiffany's watercolor inspired wedding invitation and the amazing array of paper goods at the wedding for the guests to enjoy.
Laura and Taryn from Touch Of Style Events did an amazing job planning and designing as usual, it is always great to work with them because the day runs so smoothly! Trumpet Vine made scrumptious appetizers, mouth watering entrees (filet, salmon and risotto) and picture perfect desserts.
We are super blessed to have been apart of Tiffany and Austin's wedding and thank you guys for choosing us to capture your special day. We are excited for your marriage and hope you had a wonderful honeymoon in Hawaii!
We also had an awesome time working along side Gin and Gaby from Zomei Video Productions! You can view their rad wedding below.
Tiffany and Austin Wedding Preview – Hammersky Vineyards – Paso Robles, CA from ZoMei Video Production on Vimeo.
Venue: HammerSky // Wedding Planning & Design: TOS Events // Invitation & Wedding Signage: Umbrella Tree Design // Flowers: Adornments // Catering: Trumpet Vine Catering // Rentals:  All About Events  // Music & Sound : Kramer Events // Lighting & Lounge Rentals: Kramer Events // Cinematography: Zomei Video Productions // Hair&Make-up: The Queens Bees